Strategy & Lead Gen
How to Rock Your Sales Funnel [Free Marketing Audit Template]
Map your content offers with a free marketing audit template. You'll see easily where to prioritize content for your sales funnel in 2017.
---
For marketers who want to reliably fill their sales funnels, content is key:
93% of B2B companies say content marketing generates more leads than traditional marketing strategies, according to Marketo.
But many marketers are finding that content alone isn't enough.
For one-third of B2B marketers, the biggest problem is figuring out how to serve up the appropriate content to specific buyers when the time is right, according to a Forrester report.
To build an effective digital marketing funnel, you must serve up the right content in the right order... and when the buyer is ready for it.
That can be tricky, but never fear: We've created a free marketing audit template to help you!
Follow these three simple steps to use this marketing audit template effectively:
1. Use the template to fill in current content offers
Your first important step is to audit your current content offers and where they fall in the buyer's journey.
Use the Excel doc to list your content offers in the lefthand column, then mark an 'x' where the offer falls in the buyer's journey — awareness, consideration, or decision.

Never thought about content in the buyer's journey model?
It's time to start!
Here's a quick recap:
The buyer's journey is the typical path buyers take to understand a problem, research a solution, and eventually buy from one solution provider.
In an inbound marketing strategy, this journey consists of three stages: the awareness, consideration, and decision stages.
Awareness
In the awareness stage, content is purely educational. Buyers have realized a potential problem or opportunity, and they're researching more about it. They want to understand their pain point better, and content helps alleviate that.
Many marketers shy away from this content, because it doesn't "sell" your product or service — but it does phenomenally for pulling people into your funnel.
Example: "5 Amazing Facts About Mobile Website Redesigns" or "10 Awesome Examples of Stunning Website Redesigns."
Consideration
In the consideration stage, content gives solutions. Buyers begin researching available approaches or methods to solving their problem. Without mentioning your product or service directly, this content explains solutions and is highly actionable. These are often (though not exclusively) eBooks.
Example: "How to Take the First Step in a Small Business Website Redesign" or "How To Redesign Your Website With No Coding Experience."
Decision
In the decision stage, content helps sell a product/service. Buyers are trying to resolve their problem or opportunity, and they get busy researching solutions. They consume all kinds of documents, data, and endorsements to make an informed final decision.
This content is often a case study, a demo teaser, a pricing sheet, etc. This content is often for the sales team to use, but it should be created in collaboration with marketers.
Example: "Ten Traits of Effective Website Redesign Agencies," or
"How ABC Company Redesigned Their Website With A Partnership."
If your content offers are doing their job, they'll have a certain place in the buyer's journey — and when they all work together, you'll have a complete sales funnel.
2. Make sure you have the right collateral in place to promote these content offers
OK — so you've filled in your content offers and marked where they fall on the buyer's journey.
Now, make sure you have the proper campaign materials to promote and move leads past each offer onto the next.
To really succeed with lead generation, each content offer should include three things: calls-to-action (aka CTAs), landing pages, and corresponding workflows.
Calls-to-action are customized graphics or buttons you use to promote your offer throughout your website, especially on your blog. (Check out these great CTA examples for inspiration!)
Landing pages are lead capture pages set up specifically to promote the offer. They include a form and some kind of download button. According to Marketo, 68% of B2B businesses use strategic landing pages to acquire leads — and if you're not using them, you're missing out on major conversion opportunities.
Workflows are a triggered series of marketing touches, usually emails, that are scheduled to send to the lead after downloading your offer. This moves people past your offer and down the funnel.
Mark on the chart to make sure you have the right campaign materials for each offer:

HubSpot tip: You should set up automated workflows with HubSpot to make sure you're smoothly moving leads throughout your sales funnel 24/7 — and set workflow goals to track if they're performing!



Now you have an idea of which collateral pieces you'll need to promote your content offer and capture leads... your first to-do list.
But which content offers are you missing?
3. Map your offers to prioritize for 2017
Here comes the fun part — mapping your offers to the marketing funnel.
It's exhilarating to see how all your marketing collateral comes together to create a "bigger picture."
Breeze on over to tab 2 in the template, called "Sales Funnel Mapping."
Copy over the offers you marked as Awareness, Consideration, and Decision.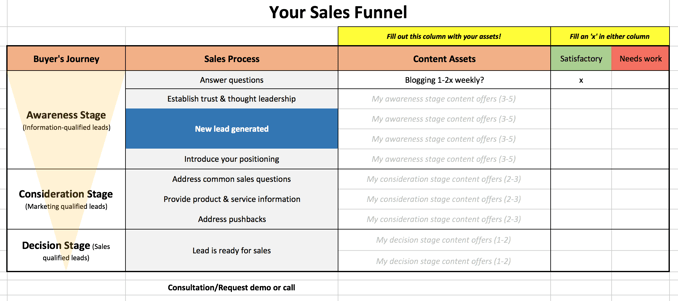 Now, take a good look at the entire funnel:
You'll see that some areas of your funnel are filled effectively... and others look bare.
You can also easily see how the offers you have in place fulfill important steps in the sales process... or don't.
Missing content points to holes in your funnel — and these are areas to prioritize in 2017.
Look at the funnel chart and ask: Where am I missing educational content? Am I not drawing in new people with Awareness-stage content? Do I fail to continually educate people with Consideration-stage content? And am I hoping people make that huge leap between marketing and sales without proper Decision-stage content?
Now you can strategize areas of your funnel where you'll get the most return.
How many offers do I need throughout the funnel?
Ideally, you want the most offers near the top of the funnel, while you can have fewer consideration- and decision-stage offers.
So while you can have 3-5 (or more!) content offers for the Awareness stage that educate your new leads, you'll want fewer consideration stage offers (around 3-5 for starters) and only 1-2 decision stage offers.
Audit — now, strategy.
You completed a content audit with our template... now, you need the right strategy to move forward.
To bolster your content funnel, you'll also need to think about:
Your buyer personas – Are you attracting and targeting the right people?
Email marketing – Are you sending highly targeted emails that move leads down the funnel?
A sales and marketing handoff – Are sales reps moving in to strike a sales conversation at the right point?
These are all important pieces of an inbound marketing strategy, which generates 67% more leads on average than traditional marketing.